Thoughts and Prayers
UPDATE: OCTOBER 11, 2021, RICHARD KERR'S WIFE KELLY: Richard tragically and unexpectedly lost his wife, Kelly, this past Thursday in a car wreck. Details are still coming out, but this is what we have as of today. There will be a Memorial Service for Kelly at Holy Trinity Catholic Church in Dallas this Wednesday, October 13 at 2:00 p,m. If you are close by and can go support Richard, that would be great. I know he would appreciate it. I know for sure there are some Classmates planning on attending. Please be lifting Kerr up during this tragic, heart-breaking time of his life and pray for all the family. Richard and Kelly had only been married a little over a year and a half. Gone way too soon.
Holy Trinity Catholic Church is located at 3811 Oaklawn Ave (front doors) or 3826 Gilbert Ave (side doors) At the corner of Gilbert/Oaklawn https://www.google.com/maps/place/3811+Oak+Lawn+Ave,+Dallas,+TX+75219/@32.8163111,-96.8044242,15.81z/data=!4m5!3m4!1s0x864e9ecffd5daa0d:0xaa4057408e1a7b4e!8m2!3d32.8147073!4d-96.8029116?hl=en-US
More information and obituary can be found at https://www.slaymemorialfuneralhome.com/obituaries/Kelly-Kerr/#!/Obituary
We will send either a plant or make a contribution to their charity of choice from our Class of 75. If you wish to send or donate on your own, please do.
-------------------------------------------------------------
UPDATE: OCTOBER 8, 2021, PRAYER REQUEST FROM LES FAMBROUGH: Just an update on my wife's cancer...it has been a while. Our last appt the Dr told us it has come back, 2 small spots on brain , the original site on her lung, and a spot on her liver. We are working on her schedule for radiation and chemo now. Please keep us in your prayers.
---------------------------------------------------------------------------
UPDATE: SEPTEMBER 19, 2021, JOHNNY WARREN: Good News! Latest update from Johnny's wife and amazing caregiver, Marla:
9/19 update on Johnny Kile Warren, from Marla..
Day 295. Day 133 of being home.
JW is still giving it his all! I'm amazed at his tenacity and drive.
*He has started mowing the yard. The mower pulls him a little faster than he would like but he gets it done. Weed eating takes a toll on him as well but he loves a pretty lawn. He piddles daily moving plants, planting new ones, watering, pulling weeds and getting an area ready for a garden.
*He took both ramps down. They were such a blessing when we needed them. (Thanks again Brian and Brice!) Grateful they are no longer needed!
*We took our first little road trip to San Angelo. He drove for the first time since being sick. He did great!
*He should finish PT in October. He has had an excellent therapist and she has pushed him to do more and more to get him back to where he was. She has been such a blessing!
*His wound is getting smaller. He goes tomorrow and I think he may have one more appointment after that. The depth is what is finally closing. It's been a long 7 months of closing up the wound. The Wound Care Team has been amazing as well.
One day when I was on my way to see him in the long term care hospital, I was stuck in traffic and a song came on the radio. I really listened to the words that day. It reminded me so much of what JW had gone through and the times I thought he wouldn't make it home. There were many hard times. But thankfully, he did come home with grit and determination.
Evidence
All throughout my history, Your faithfulness has walked beside me
The winter storms made way for spring, In every season, from where I'm standing,
I see the evidence of Your goodness, All over my life, all over my life
I see Your promises in fulfillment, All over my life, all over my life
Help me remember when I'm weak, Fear may come but fear will leave
You lead my heart to victory, You are my strength and You always will be
I see the evidence of Your goodness, All over my life, all over my life
I see Your promises in fulfillment, All over my life, all over my life
See the cross, the empty grave, The evidence is endless
All my sin rolled away, Because of You, oh Jesus
See the cross, the empty grave, The evidence is endless
All my sin rolled away, Because of You, oh Jesus
I see the evidence of Your goodness, All over my life, all over my life
I see Your promises in fulfillment, All over my life, all over my life
I see the evidence of Your goodness, All over my life, all over my life
I see Your promises in fulfillment, All over my life, all over my life
Why should I fear, The evidence is here
Why should I fear, The evidence is here
--------------------------------------------------------------------------
UPDATE: JUNE 26, 2021 ON JOHNNY KYLE WARREN: I had to share today's report on Johnny with ALL of you. It just gives me chillbumps and a grateful tear in my eyes. Your prayers are being heard...... don't stop! Y'all it's DAY 200!! 200!! and that's not counting however many days Johnny was sick at home before finally going in to the ER way back in early December. He has a solid rock of a loving wife, Marla, and here is her update she posted on our Class Facebook page today. To God be the GLORY!
6/26 Update on Johnny Kile Warren, from Marla…
Day 200
JW is AMAZING! He is meeting all his goals in PT in record time. His PT says he is way ahead of where she thought he would be after 8 sessions.This week he used a 4 prong cane to walk around the PT room. He also walked the parallel bars without holding on forward, backward and sideways multiple times.She wants him using the walker more and the wheelchair less.
Today he walked-with his walker-all the way to and from wound care. It was a good workout.
He can get in and out of bed by himself, get himself dressed including shoes and socks, and do showers/baths 100% on his own. Self-care is now 100% as well.
His wound is getting smaller and he has been without his wound vac since last Tuesday. From Tuesday to Friday his wound was smaller except for depth. His body has kicked in and continues to heal the ulcer. We will change dressings every other day and re-evaluated on Friday. The hope is no more wound vac!
We got his air mattress and it is much more comfortable and better for his wound. He slept great last night!
He can go outside and hand watered the yard/plants by sitting in the lawn chair. That is what he loves doing!
He is eating well and drinking 2 protein shakes a day. He has gained about 8 lbs and feels stronger/healthier.
He is taking fewer meds than when he first got home. His goal is to reduce the number of meds he takes. Some he will need for his lifetime but others will hopefully taper off. He seldom takes nausea meds and takes fewer pain pills.
All in all, he is doing way better than anyone expected him to at this point. He is giving it his best shot, meeting goals and raising the bar! He makes me so proud!! God heard/hears your prayers lifted for us! We are blessed by the best drs, nurses and therapists to push and encourage, the best prayer warriors and the best friends/family! Thank you for loving us through the hard times. The days ahead seem so much brighter and we are grateful for that!! Blessings to you and yours!
--------------------------------------------------
JUNE 20, 2021: LES FAMBROUGH'S WIFE: and I just saw this while I was trying to fix the errors on this page. Les gave us a great update on his wife earlier this week who has been battling breast cancer. Here is his update from our Facebook Class page:
Leslie Fambrough· Looks like everyone is posting good news about loved ones, so guess I will contribute as well. My wife, Donna, finished chemo, and thanks to the doctors the chemo, and most importantly the prayers, her initial full scan shows all traces of cancer are totally GONE!!! Thanks for all the prayers, and most importantly thanks to our heavenly father for looking out for her.
--------------------------------------------------
UPDATE: May 21, 2021: JOHNNY KYLE WARRREN: I apologize that it has been a while since we have posted an update on John John. If you are on our Class Facebook page, you have been getting the weekly, sometimes daily updates on Johnny's progress. But today I wanted to let all the Class know the latest update on Johnny. His amazing, devoted wife, Marla....gave us all good news earlier this week! Please read her post below and keep Johnny in your prayers, positive thoughts, well wishes. He has worked so hard to get to this point, never ever giving up.......we gotta stay strong for him and help pull him through this most difficult time in his life. Take a few minutes and drop Johnny a note of encouragement. He reads everything that is sent to him via facebook or mail. You can send anythiing to this address:
200 Sephora Place Cedar Park, TX 78613
5/18 Best Update yet on Johnny Kile Warren, from Marla Minton Warren...
162 Days; 23 weeks and he's finally coming HOME tomorrow (Wednesday)!!
We are beyond grateful and are so very thankful for your prayers, positive encouragement and well wishes sent our way.
The road is still a long one but at least he will be home. J will go to outpatient therapy at NAustin Hospital for the next several weeks. They will be able to meet all his needs (OT/PT/Speech/Wound vac). J is relieved to know he will continue to have equipment to further his progress. He will have an extra workout getting in and out of the car and riding in to town.
J has worked so hard to get where he is. He amazes me with his tenacity. Even when he doesn't feel well, he pushes through. He is determined to get back to doing the things he loves. He will continue to persevere and overcome obstacles. And I will be by his side cheering him on.
We really are stronger together.
Your prayers are still needed as he has hurdles to jump. We appreciate each of you and all you have poured into us. We are beyond blessed to have you walk with us and pray us through the hard time and celebrate the good times. God has brought us this far and will continue to guide us through our every move. He closed doors and opened others for things to work out and guide us to this plan. For that, we are thankful.
---------------------------------
Updated May 16, 2021: Loss of Classmate: Wesley Robertson
April 24, 2021 No obituary, No services
---------------------------
Updated April 13, 2021: Loss of Classmate: Kaye McCrury Scott-Jones
We have again lost another Classmate this past weekend. Please keep Kaye's family and friends in your prayers and thoughts. She had such a big heart and did so much for so many people. https://www.acreswestfuneral.com/obituary/lorena-scott-jones
Updated April 7, 2021: Loss of Classmate: Danny James
Last night or night before, Danny passed away in his sleep due to a cardiac event. Will post more information as we receive it. Keep his family and friends in your thoughts and prayers.
https://brownowensbrumley.com/danny-l-james/?fbclid=IwAR1Ucy_DazylujgxuJXZ2pvM6Qv8IqDyU12hxTXwAlR9aTtll5Nndsa-wlg
Updated March 19,2021
It is with much sadness that we let you know of the passing of another of our Permian 75 classmates.
Please keep the family of our classmate Steven in your thoughts and prayers.
Steven "Moped" Paul Molthan, age 64, of Odessa, TX passed from this life on Saturday, March 13, 2021. He was born on Friday, October 12, 1956 in Pecos, TX to Troy Elmer and Margaret Mount Molthan.
Moped accepted Jesus Christ at an early age. He was involved with the youth at Sherwood Baptist Church for many years and also worked as a brick layer as well. Moped enjoyed working with numbers and the Rolling Stones were his favorite band. Moped enjoyed music and could even play the Bass.
Those left to cherish his love and memories are his beloved mother: Margaret Molthan; two brothers: Josh Molthan and Jason Molthan; uncle: Malcom Mount; sister: Lori Mitchell; two nieces and two nephews.
He was preceded in death by his father: Troy Molthan; grandparents: Elmer and Bertha Molthan and John M and Clara Mount and uncle: Kenneth Molthan.
Memorial services will be held at 1:00 pm, Saturday, March 27, 2021 at Acres West Funeral Chapel. Inurnment will be held at a later date at Brownfield Cemetery. Arrangements are entrusted to Acres West Funeral Chapel and condolences to the family may be sent online at acreswestfuneral.com.
March 15, 2021: DAVID GLEATON I received an email from David earlier tonight asking for our prayers for an upcoming surgery this Wednesday afternoon. Please keep him in your thoughts and prayers this week.
| | |
| --- | --- |
| | Sherry, Im sending this to you today since I'm no longer on facebook. Im asking for prayers from the class as im facing surgery on Wednesday afternoon and Im in renal failure at this time. Hoping for a good prognosis and turnaround. please send any replies to my email address.... David_g211@yahoo.com many thanks, stay well and safe |
----------------------
Updated March 13,2021
Please keep our classmate Larry Cosper in your thoughts and prayers. Larry's father James, passed away on Thursday, March 11, 2021, at the age of 94. He was a proud veteran and was honored to be a part of a Permian Basin Honor Flight in 2014. (He served in the Navy in WWII and the Korean conflict.)He was a story-teller. Most stories were factual (as far as we could tell) but the delivery mixed with nicknames and circumstances made us wonder just a little! Rest in peace.
Updated March 1, 2021
Please keep the family of our classmate Kenneth James Mueller. Kenny graduated as our class Valedictorian, also earning a BS in Petroleum Engineering from Texas A&M, graduating Summa Cum Laude. Ken was known for his love of family and devout Catholic faith. He enjoyed being outdoors, deep sea fishing and participating in sporting clay events. He leaves treasured memories as a loving husband, cherished brother, proud father and amazing grandfather.
Updated March 1, 2021
Please keep the family of our classmate Harvey Glen Keefer in your thoughts and prayers. Glen passed on Feb 13, 2021. Glen Loved his family and enjoyed spending his free time with them. He always enjoyed playing 42 with his parents and Pat, driving to the hill country to look at wild flowers, going to the cabin in Ruidoso and just sitting around watching M*A*S*H with his grandkids.
UPDATES FEBRUARY 07, 2021
JOHNNY WARREN: After 8 weeks in the hospital on a roller coaster ride, Johnny has been moved to long term care. Below are the last three updates detailing his last three days in the hospital. These come from his wife Marla. Johnny still has a long road ahead of him to get back his strength and ditch this place, but he has shown without a doubt what an amazing fighter he is! Prayers are definitely still needed for both Johnny and Marla. One day at a time.....
Update 2/1 for Johnny Kile Warren from Marla...Great morning for JW!! The vent is out and I got to talk to him!!! Very raspy voice but he let me know he misses me being there!
And could I come get him! They will keep him in ICU another 24 hours for monitoring. His oxygen rate is low, he's a bit drowsy, stable vitals, low grade fever and status quo on GI issues. I'm beyond elated to share this news! Thankful for your continued prayers and will share updates as I get them. Praising and thanking God for all he is doing through this journey. (2nd update 2/1) Nurse just called again. J is off all sedation. He's coughing up junk but clearing his lungs. He had OT today and should see PT and Speech tomorrow. He's getting ice chips but is asking for more. Speech will need to do an evaluation to see what he can safely tolerate. They did a CT of his abdomen but won't get results until tomorrow. He's confused at times about where he is but that's to be expected for all he's been through. Pray for continued progress and a clear mind.
2/2 Update for Johnny Kile Warren from Marla...J is moving to Cornerstone Specialty Hospital-the Long Term Care Hospital-this afternoon. I was not expecting the call from the social worker nor was I expecting there to be a bed available. But alas, it is happening. J will have all new doctors (with the exception of Dr Desai who does his endoscopic procedures) and therapists. I will be able to visit daily so for that I'm grateful! He just arrived at Cornerstone so I'm out the door and on my way to see him!
2/3 Update on Johnny Kile Warren from Marla...J did OT/PT today. He should see them M-F and hopefully start building some strength in his arms and legs as well as self help. He was able to sit in a wheelchair for an hour. He was tired afterwards and napped. Baby steps in the right direction. Things are much slower paced here. That, too, will take some getting used to. 8 weeks down and many more to go to get him playing with Quinn, swinging a golf club or casting a fishing line! The determination is there!!
(full, daily updates can be found on our Facebook Permian High School - Class of 1975 private page)
Danny Black: I spoke with Danny a few days ago and he has last chemo treatment, tomorrow, 2/8/21 for his prostate cancer and then meet with Oncologist to see his progress and how it's going. Special prayers for our friend Danny that the treatments are working and clearing out!!
Sherry Waner McLemore: her 18 yr. old grandson is still in need of a heart transplant. He is doing well on his new very strict heart healthy diet and being very disciplined. Home health nurse comes by once a week to check in on him. There is a GoFund me page set up for Niko to raise funds for his transplant if you feel moved to donate to this very expensive procedure and the costs leading up to it. I'm sure Sherry and Kevin would love to even just hear words of encouragement from you and they definitely covet your prayers on behalf of their grandson, Niko. https://gofund.me/4190e9ec
LOSS OF FAMILY MEMBERS:
DIXIE COLLINS JONES: loss of mother, January 18, 2021 https://www.sunsetodessa.com/obituary/Yvonne-Collins?fbclid=IwAR2fDeKNuxpzRNBYsHSQhZ-xI3KzkzuXgAKrRkI2X8MLAq6K-Dnt8QxA4lA
LEE HANSON: loss of brother, Mike (or Cheezy), January 20, 2021 https://www.sunsetodessa.com/obituary/Michael-Hanson?fbclid=IwAR0MWNadsIZnwgSy0trQDpBGlwMF8M1yXA06LGdFXsdGY0_lvek0da_5RnU
ALLEN GOBEL: loss of mother, 2/2/2021 (no obituary found)
--------------------
January 14, 2021: I received a sweet message and email this week from Vicky Carter Greer on the loss of her father, Chick Carter. She wanted me to be sure to share with our Class because so many in our Class knew her sweet daddy and he knew so many of you and he loved MOJO!! Please be in prayer for Vicky and Bennett and their families as they grieve the loss of their father. I know how much they appreciate it. A very nice tribute to Chick is in the obituary below with the details of his upcoming memorial service at the end of the month. (*please do not share this on facebook or anywhere else, this is for our Class only, per Vicky)
-----------------------------------------
January 14, 2021: UPDATE: Johnny Kile Warren is still in the hospital. From the last update of 1/4/21 it has been a roller coaster of ups and downs. He has finally had a LOT of fluid drained off of his stomach area once or twice, but was very touch and go for a few days whether it would get done. He was moved to another hospital to have that done (have a stent put in to drain fluids) and ended up in their ICU and back on a vent and feeding tube. Kidneys, lungs, potassium all were not doing what they needed to be doing in order to do procedure, so was delayed for a few days. Finally the drs. felt they could get it done and procedure was done and much relief to Johnny. Vent was left in for future procedures that will be needed. However, his wife was removed from the hospital for a few days, who knows why, but today they allowed her to come back and be with him. While she was gone the vent was removed, and I think another procedure was done. She is there now, he is happier, his eyes are open, kidneys are working, GI dr. is pleased with how things are going. Another liter of fluid removed from stomach. It's a day at a time. Good days, bad days, but positive days here recently since the snow! Marla is asking for prayers prayers prayers....they feel them working and they need them. Johnny has now been in hospital for over a month. Yes, he is chomping at the bits to break out of there!! He's a fighter!!
---------------------------------------------------
January 4, 2021:
Loss of Classmate: Charles Watson on December 31, 2020 due to lifetime heart troubles and medical issues. Contacted from his niece. https://www.lucasfuneralhomes.com/m/obituaries/Charles-Watson-24/Memories?fbclid=IwAR3HgaFOyNu18Wz_BiTBxJNjdaNUMa9rwNTaJG3uESSxYNCVBrKNc-AYkIs
Loss of Mother: April Montgomery Labhart : We lost my sweet Mother on December 23rd after a month-long struggle against COVID-19. She was 83 but still full of life and joy. I know she's with God now and watching over me from heaven the same way she watched over me here on earth. I sure will miss her though. http://www.owensandbrumley.com/obituary/patricia-smith?lud=904F17F79628E2A80A1CC304DA551104&fbclid=IwAR30eWufQXfvrKkHULFiodUpojp-OI-y9ti0vvDCvC_nia8VKgVEFifXUgE
1/4 Update on Johnny Kile Warren: Night was typical. Not a lot of resting. He may get moved to IMC again but there aren't any beds right now. CT scan of abdomen this morning-J has another big sac of fluid. It's the size of a soccer ball. They won't drain it until the sac walls become "mature" probably next week. He would be moved to the north location for the procedure and stay there bc of the possibility of needing to do it again.
They are going to look at pain regimen and see if there is anything else they can do for him to have less pain. The pockets/sac of fluids are causing the discomfort and pushing organs around. They are going to try more lasix to get fluid out of the body. At this time organs look pretty good but there is about 30% of the pancreas that is dead. Today he has been throwing up stomach acids. His stomach is finally more settled. Bless him!!
-----------
January 3, 2021: UPDATE ON JOHNNY KILE WARREN from his wife, Marla, through our Class Facebook page by Marilaura: Sorry I haven't updated in a while, I really don't know how much to update on here. We update almost every day or two on Facebook. If you would like more updates, please feel free to contact me (Sherry), Marilaura Moosher Marshall, or Randy Newton. It's pretty much been a roller coaster ride for Johnny. He had been doing better, off the oxygen, awake, but on feeding tube trying to get him nutrition. Infectious disease Dr. working with him with an antibiotic, but still a lot of pain. Then on New Year's Day we got this set back news 😔
1/1 UPDATE on Johnny Kile Warren
New Year's Day
J had a setback. He was needing more oxygen and was out of it. The RTs and his nurse were constantly checking on him and I was there as well.
He is now on a vent in ICU again and his right lung collapsed due to a huge sac of fluid in his upper right chest area. They placed a tube in to drain the fluid off. He is heavily sedated.
Please pray for his healing.
So many people want to know what they can do and we appreciate that so very much. Your prayers are greatly appreciated. ❤️
*In the last update, I posted Johnny's home address to mail a note or card of encouragement. Marla reads ever card to Johnny please take a few minutes and drop him a few words of encouragement, a prayer, a Bible verse, or whatever you feel comfortable with. Let's help Johnny KILE pull through this and get him on the other side! 🙏🏻❤️🙏🏻 SJM
------------
December 23, 2020: UPDATE on Johnny Warren from his wife, Marla, through Marilaura to our Class: 6:04 am
Called me to bring him tweezers and his shaver🙂 A little less swollen-Lasix is working. CT shows more inflammation and necrosis (dying pancreatic tissue) Paracentesis-drained 2 liters out of his stomach. Need to start another IV for nutrition. Infectious Disease Dr has changed his antibiotic again to Clindamycin. Looking to see if anything new growing from stomach fluid.
Still has rash on his body at times ... who knows why??? Or what's causing it??? Even though more inflammation and necrosis drs say they are moving in right direction!!!🙏🙏🙏🙏🙏🙏🙏🙏🙏🙏🙏🙏🙏🙏 *As you celebrate the birth of our Savior this Christmas, please take a moment to remember Johnny and Marla Warren and lift them both up in prayer, or your thoughts, as we have another Classmate in need of us standing in the gap for him. sjm
** We also still need prayers/thoughts for Danny Black battling prostate cancer and Sherry Waner McLemore's grandson, Niko that is waiting for a heart transplant and her husband, Kevin (76') with some health issues. I will try to post updates on these in a few days.
------------
December 21, 2020: UPDATE on Johnny Warren
Today Johnny's wife, Marla, gave Marilaura permission to share more details on Johnny's stay in the hospital since December 9. Marla is asking for prayers to pull Johnny through this terrible time. I am copying Marilaura's post from our Class of 1975 Facebook page that she posted this update on this afternoon. Sherry ⬇️
UPDATE-Concerning Johnny Warren...
With Marla's permission she advised I could provide the following details...
He has acute pancreatitis- a bad case that is puzzling even his doctors. His body does seem to be responding positively to some treatments but not others. His pancreas is very inflamed and he has necrosis. Praying for a Christmas miracle!
Johnny has been on a ventilator since Wednesday before last. Baby steps have been happening. They are slowly trying to wean him off but will depend on his white blood count etc before the drs feel good about weaning him completely off.
Today is a bit slower progress-he isn't getting enough nutrition from his feeding tube. When he is released from the hospital he will need some long term care.
Please keep the prayers coming!
Yesterday there were 15 people in the hospital parking lot praying for Johnny, the staff and his care!!!
Marla told me-He is very loved -Mojo class of 75 still has his back!! Let's bombard him with cards!!!
Johnny Warren
200 Sophora Pl
Cedar Park 78613
----------------
December 15, 2020
Please keep our classmate Johnny Warren in your thoughts and prayers. Johnny went into the hospital on the 9th of December. (NOT Covid related) Johnny's wife is being allowed to be with him in the ICU so he is not alone. Johnny's faith in God is deep, so he is in good hands. Please keep him in your thoughts, and say a little prayer for him to get well soon. As we know more, we will let everyone know. RN
----------------------
November 28, 2020: Deepest sympathy and prayers for Vicki Pugh Steel and Alan on the loss of Vicki's father this past week. Many of us also know her younger brother Paul Pugh and baby sister Lori. Keep them in your prayers as they say goodbye and Celebrate the Life of their father on Tuesday morning. https://legcy.co/37hgcWj
-----------------------------------------------
October 14, 2020
The last six weeks have been hard on several of our Classmates. I think we all know that we are going to lose our parents and many, many of us have already lost our parents....but when we start losing siblings and GRANDKIDS! for me personally ...... that is just almost too much! I am late in posting all of these prayer requests on this page, and I sincerely apologize. I update on our Facebook Class page immediately, and then forget to update here for all of you.....just been a rough month......... sjm
August 25 - Mike Crawford his sister -- Toni Denise Jones (Crawford) (PHS 74)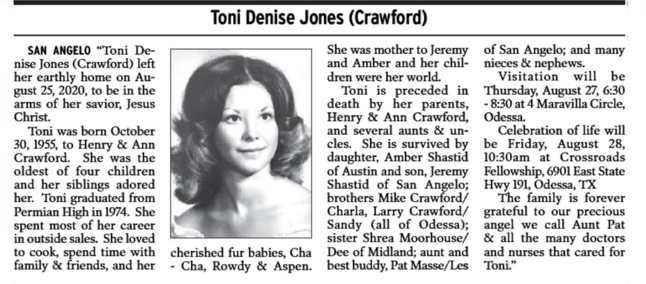 September 4 - Sherry Johnson McCrary her brother - Neal Johnson (PHS 72) https://www.dignitymemorial.com/obituaries/odessa-tx/clarence-johnson-9349921
September 12 - Jerry Parsons and Terry Parsons Wardlaw their mother - Rhea Parsons https://www.dignitymemorial.com/obituaries/odessa-tx/rhea-parsons-9356798
September 19 - George Garms his 19 year old grandson, Kaenan Garms (PHS 19) was tragically killed in a car crash on 52nd street and Clover. https://www.oaoa.com/news/three-teens-dead-in-odessa/article_83c48506-fa95-11ea-9268-f33fa543a173.html?mode=jqm&fbclid=IwAR1aWjD47lOMdTgERHwu4nH5kp-hTrcjuwAhHtnRISNOYarVFrpD_odCrUc
October 3 - Donna Lynch Trout her granddaughter, Kristina McCrary, 30 and two great granddaughters, Rylee Ramos, 9 and Reece Ramos, 4 in a tragic head on crash on Rankin Hwy going home. https://www.cbs7.com/app/2020/10/05/rankin-mother-and-daughters-midland-man-die-in-head-on-crash/?fbclid=IwAR3YYpVD8IAW0nO6Y_TZ-eDjs9-AggOiPx-IoTAVLulZAjv5DLkb8XK50Kg
October 9 - Kathy Brown Greer passed away (email sent yesterday) I talked with her daughter tonight and they are planning a Celebration of Life Memorial in March 2021 around her birthday in Leonard, TX.
*also prayers needed for the following .........
Sherry Waner McLemore - her grandson, Niko Grimes, 18, was med-vac to hospital in Ft. Worth back on August 22 in very critical condition with heart failure. Niko has a very rare congential birth defect (1/million) that he has survived with this long and is still waiting to hear about a heart transplant or heart/lung transplant. It has been a very long road for this family that is so very close. There is a GoFund Me page set up by to raise money to help out on the exorbitant medical costs and to help the family be with him in Ft. Worth. Please consider supporting our Classmate, Sherry, in helping her grandson and daughter. You can read about his journey and donate anything, nothing is too small, at this site: https://www.gofundme.com/f/24758zpc5c?utm_medium=social&utm_source=facebook&utm_campaign=p_na%20share-sheet&pc_code=fb_co_dashboard_a&rcid=f62ac10d6bfc4c08b2deb25bdf4dbd8a&fbclid=IwAR0-ghN1QX64AmsGv8RI3-1fqLa0tj9dut-L7RTSdy4dxqTOVmsoL_MQkYk
Danny Black is battling Stage 4 metastatic prostate cancer. There have been a couple of fundraisers here in Odessa for him to help with medical bills. The cancer has moved to his bones and he is no longer able to work. Please put him in your prayers. There is a fundraiser on Facebook. I will post it on our Class facebook page. If you are not on Facebook and want to make a donation, contact me and I will be happy to make a donation for you after I receive your $$$$ through Venmo, Paypal, Zelle or mail.
------------------------------
April 24, 2020
Deepest sympathies to Gary Madden and his family in the loss of his mother, Wylma Madden, this week. I know many of you knew her personally. At this time there is no public service planned. Please keep all of them in your prayers and thoughts. https://www.dignitymemorial.com/obituaries/odessa-tx/wylma-madden-9148249
-----------------------------
January 23, 2020
Please keep Kay Hiller Nabors and family in your thoughts in prayers as they prepare for her baby brother's Memorial Service tomorrow. Chris, Permian 82' suddenly and unexpectedly passed away this past Monday morning. https://www.sunsetodessa.com/notices/Walter-HillerIII
--------------------------------
December 16, 2019
From Linda Gaines Crane on the loss of her beautiful mother. Please keep Linda and her daughters in your prayers through this holiday season:
Today, Heaven gained an awesome Mom, friend, Grandma, sister, wife, teacher, counselor and a great role model and kind person. ❤️ It's a relief to know that she's no longer in any pain and is drinking coffee all day, if she wants to. 😝 Mom will be greatly missed and there will be a very large hole in my daily life. What a blessing to have had my Mom in my life ... for so much of my life! I love and miss you Mom 😘
---------------------------
November 21, 2019
Please keep Brenda McCorkle Britt and her family in your thoughts and prayers this weekend. Brenda's mom, Joann suddenly and unexpectedly passed away last Sunday afternoon. Her services will be in Odessa at Sunset Memorial Gardens with visitation Friday evening and Celebration of Life Saturday morning at 10:00. Brenda and her granddaughter and her sister, Kim, will be traveling from Austin area to get here tomorrow, Lift up some safety prayers up for them too. The weather has done an about face tonight with a cold front blowing in out of the north.
I apologize for being late getting this out to you. I have added the link to Sunset below to click on. Please feel free to sign the guest book and leave a comment. I know so many of you knew Brenda's mom. She was such a sweet lady to all of us.
https://www.sunsetodessa.com/notices/Joann-McCorkle

----------------------------
June 6, 2019
Please keep Sherry Johnson McCrary and her family in your thoughts and prayers.
From Sherry: Late last night dad met his maker, King of Kings, Lord of Lords, his Saviour as He came to take daddy to his eternal home and unite him with momma. We can not thank you enough for the many many prayers you have prayed for our family and both our parents so faithfully 🙏🏻🙏🏻🙏🏻
It's only been just a little over five weeks ago that we were delivered the devastating news that dad's bones were covered in Stage 4 Metastatic lesions and that the bone biopsy was not conclusive as to the primary source the cancer was coming from. It was very aggressive and we knew we would not have dad long. He is home now...happy and healthy and out of pain, and best of all, reunited with the love of his life....how can we be sad about that?!!
I am so thankful that God put me back in Odessa. My daily schedule for the last nine months has been set around dad's lunch time. I am forever grateful to God for giving me an enormous amount of time and days to spend with daddy. I will miss my lunch dates terribly 😪
Please join us in celebrating dad's 87 and a half wonderful years at:
Frank W. Wilson Funeral Home this Friday, June 7
3:00 Visitation
4:00 Service
Following service dad will be buried in Sunset Memorial Gardens with military honors.
March 29, 2019: From Jerry Burger
Don Hanson's mother, Emma Marie, passed away last week in San Antonio. Her services will be held in SAN ANTONIO/ALAMO HEIGHTS next week on Thursday, April 4th at the
University of the Incarnate Word
4707 Broadway St. (at Hildebrand off 281)
San Antonio 78209
in the: St. Joseph's Chapel at the Village at Incarnate Word
11:00 - 11:30 Rosary
11:30 - 12:30 Memorial Mass
There will also be a Rosary on Tuesday, April 2 from 7:00 - 7:30 pm at
St. Mark the Evangelist Catholic Church
1602 Thousand Oaks Dr.
San Antonio, TX 78232
https://www.puenteandsons.com/obituaries/Emma-Marie-Hanson?obId=4260800#/obituaryInfo
*Directions are listed on the above link along with obituary, however, at this time the dates are wrong. The above dates of April 2nd and 4th are the correct dates and times according to communication with Don.
3/29/19 10:00 pm
*maybe a group of you SA/Hillcountry folks can make your way over there next week. It's been years and years since most of us have seen or heard from Don. I know it would mean the world to him to see some "old" friendly faces from great times past. I would give anything if I could be there, use to live just a few blocks away from UIW. There are some great eating places right there within 5-10 minutes afterwards.
Keep Don and his family in your prayers as they celebrate his sweet momma's life and also as he and his brother, Joe, travel in from out of state.
Sherry
-----------------------------------------------------------------
March 3, 2019: From Lori Nelso Aldrich tonight:
Hello everyone, I'm asking for your thoughts & prayers for Coby Smith Scott as she will be undergoing amputation surgery tomorrow (below the knee) She has suffered for a long time with idiopathic neuropathy that has turned to Charcot foot and has previous had toes amputated so actually thIs amputation will be a blessing for her to be out of excrutiating pain and be healed. And thank God She is not diabetic. She is already looking forward to her healing & prosthesis so she can finally get around so much better and live life!! Thank you all in advance!! ♥️♥️♥️
————————————————-
November 18, 2018: Deepest condolences to Beth Perry Sewell and family and many, many friends in the loss of her amazing mother, Jo Perry, this past week after a long battle with Alzheimer's. Beth just lost her father only four months ago this summer. Please lift her up in your prayers and thoughts.
http://www.legacy.com/obituaries/oaoa/obituary.aspx?page=lifestory&pid=190770618
---------------------------------------------------------
October 2018 ~~~~~~~~~~
October has not been a very good month so far for our classmates 😔 Joey White lost his mother on October 11, Susan Smotherman Drennan lost her mother on October 16, and now Laura Headlee Nunez has lost her father on October 19. Three Saturdays in a row we have had a funeral for one of our classmate's parents.
This season in our life's as caregivers of our elderly parents and then losing them is really really hard. Those of you that do not know, Laura is also taking care of her mother who was hit by a car in the HEB parking lot back in August and sustained life threatening injuries. Her health is touch and go, up and down. She has a long road of recovery ahead of her and needs many prayers of healing. When you go to our Lord in prayer, please lift these families up as they face the days ahead of them.
Grace and Peace
Sherry
https://www.sunsetodessa.com/mobi/memorialpage.asp?page=odetail&id=96881&locid=37
—————————————
Please be in thoughts & prayers for Coby Smith Scott & her family. Coby lost her sweet mother Darla Smith September 6, 2018 from post operative complications following open heart surgery.
Darla requested not to have a big service, but to have just friends and family gather to celebrate her memory.
Instead of flowers, Darla would hope that you celebrate her life in a way that honors her spirit.
Consider a random act of kindness, such as adopting a stray dog on the side of the road, like she often did.
Darla Smith
1940-2018
*September 16, 2018: I wanted to add an email that Mike sent me earlier this week that I had not gotten posted: Sherry
My Mother Jean Maxwell passed away Tuesday 9/11, she had a long time battle with COPD. She was a very talented seamstress and made, altered many cheerleader, majorettes And prom dresses over the years. You used to laugh that she could not get the uniforms as tight fitting as they would want them and they would return to make repairs. She was a great stay at home Mom and be very missed by her family, Mike Maxwell
Please keep our classmate Mike Maxwell in your thoughts and prayers after the loss of his mother Jean.

Please keep our classmate Larry Cosper and his family in your thoughts and prayers for the loss of his mother.
Loss of classmate
A memorial Service will be held this Saturday, July 21st, 2018. In lieu of flowers the family has ask to please make donations in Richards Honor to his beloved Church.
Discovery Life Church
242 Country Lane
Cibolo, Tx 78108
Our classmate, Richard Atkins passed away last night at home. Richard lived in San Antonio. He was found at home last night and his heart is suspected cause of death. Please keep his family in your thoughts and prayers. We will send more information as we know it.
Loss of classmates Dad
Please keep our classmate, Beth Perry Sewell in your thoughts and payers.Memorial services will be held at 10:30 a.m. on Saturday, August 11 at Westminster Presbyterian Church, 4901 Maple Ave in Odessa, TX. In lieu of flowers, the family suggests memorials to The Salvation Army of Texas at http://www.salvationarmytexas.org/odessa or The American Heart Association
http://www.heart.org or the charity of your choice
.
SALADO, TEXAS - Charles R Perry passed away July 12th, 2018. He was born in Shamrock, Texas on September 8th, 1929.
Loss of classmates Mom.
Please keep our Classmate, Terri Hargis in your thoughts and prayers.
Patsy Jean Hargis, 83, of Coffeyville passed away Wednesday, June 13, 2018 at Coffeyville Regional Medical Center.
She was born on September 1, 1934 at Coffeyville to Hobert and Etta (Moonyham) Hagan. Patsy grew up and attended school in Coffeyville.
Graveside services will be at 11:00 a.m., Monday, June 18, 2018 at the Fairview Cemetery Veterans Memorial Patio, . Burial will follow in Fairview Cemetery.
Friends may call on Sunday from 1:00 p.m. to 5:00 p.m. at the David W. Barnes Funeral Home in Coffeyville.
The family suggests memorials to the Alzheimer's Association or Windsor Place Activity Fund; contributions may be left with the funeral home or mailed in car e of David W. Barnes Funeral Home, 306 North Cline Road, Coffeyville, KS 67337.
Loss of classmates Dad.
Please keep our Classmate, Mallie Jackson Flock in your thoughts and prayers. Her father Jimmy, recently passed.
COLLEGE STATION - James D. "Jimmy" Jackson of College Station died peacefully of natural causes early Tuesday, June 5, 2018, at the age of 83. Graveside services are set for 10:00 am on Saturday, June 23, 2018 at College Station City Cemetery.
LOSS OF CLASSMATE: May 17, 2018
Please be in prayer for the family and friends of Deborah (Debbie) Callendar Perry in the unexpected loss of her life this week.
Services are being held this Thursday at Sunsey Odessa. Obituary and info attached
http://sunsetodessa.com/mobi/memorialpage.asp?page=odetail&id=92484&locid=37
——————————————————————-
Passing of one of classmates, Terra Cline Adams, Mom.
ODESSA - Ann Cline, our beloved mother, passed away on Friday, April 20, 2018.

She was born September 21, 1933, in Harlingen, Texas and grew up in Pampa, Texas, where she graduated from Pampa High School. She worked at The Brownie Shoppe, and then at ECISD for many years, and made some great friends along the way.

She enjoyed dancing, playing bridge, crossword puzzles, reading, musical theater, and spending time with special friends and family.

Ann was most proud of her four daughters, her grandchildren, and her great grandchild who all brought her immeasurable joy. She was the glue that held us all together, and we loved every moment that we were blessed to spend with her. She will be greatly missed.

Ann was preceded in death by her husband, James Cline; brother, Jimmy Berry; sister, Marci McNeely; and parents, Jack and Edna Berry.

Surviving her are her four daughters, Caprice Bauer, Leesa Sanders, Terra Adams, and Tonya Paul; their respective husbands Dr. John Bauer, Robert Sanders, Dwight Adams, and Dr Scott Paul; and her sister, Gretchen Smith. Her grandchildren include James Sanders, Dr. Arielle Bauer and husband, Greg Fischvogt, Alexandra Bauer, Allison Paul, Evan Paul, Megan Adams, and her great grandson, Maxwell Fischvogt, along with many other loving nieces and nephews.

In lieu of flowers, the family requests that memorials be made to Meals on Wheels or your favorite charity. The family will hold a private service at a later date.
January 19, 2018: It just breaks my heart 💔 to post this morning. Seems like we can not go a day this new year without me having you wake up to more sad news for one our classmates. Only 8 days ago on January 11, Carolyn Notgrass McConnell lost her father. Yesterday, her older sister Jan Notgrass Findley, lost her long, brave, courageous battle with metastatic breast cancer 🧡 So many of you stepped up and helped out with Jan these last couple of years and I know you are deeply hurting today. When I would see you at the cancer center with Jan giving her a ride, going to the dr. with her to get results and be her support, taking her meals, coming in town to keep her company, help around the house with chores or any repairs, and no telling what else! These are just a few of the things I witnessed and know about, no telling what others did but this is prime example of who WE are. Carolyn lives out in CA, can you only imagine her heartache of being so far away! Please lift Carolyn and her brothers and rest of the family up as they once again make plans for their loss.
God bless all of you. I have said a special prayer this morning for our Class....all of you, specifically for God to surround you and your family with a hedge of protection, good health, safe travels, and love. 🙏🏻❤️🙏🏻😘
From Carolyn: We are planning on having Jan's memorial service on Saturday, February 10th, at 11:00 am at Northside Baptist Church in Odessa. Jan was dearly loved and will be missed. Thank you all for everything you did for her. We very much appreciate it. ❤️
——————————————
January 18, 2018: Thank you Jeanie Medlin Rex for sending in to us. Another of our classmates has lost her husband. Please keep Martha and her family in your prayers.
Martha Thomas Haymes lost her husband, Tom Haymes ('73 Permian grad) on January 10
in Lubbock. Services were held Monday, January 15 in Lubbock.http://www.legacy.com/obituaries/oaoa/obituary.aspx?pid=187830243
——————————————————
January 18, 2018: Obituary for Lori Nelson Aldrich's husband Chris. There will be a memorial celebration held in Odessa at a later date to be announced.
http://m.legacy.com/obituaries/oaoa/obituary.aspx?n=christopher-robert-aldrich&pid=187883822&referrer=0&preview=True
January 14, 2018
It is with incredible sadness this morning that I share Lori Nelson Aldrich's post on her husband, her warrior, her love
of her life...Chris. Please be in prayer for this beautiful family 🙏🏻💔😪 I will post more as I hear...Sherry
With great sadness & a heavy heart I am announcing that at 1:08 this morning my "Chrissy Pooh" took his last
breath in this world as my hand was laying over his heart. He fought the good fight & now he is pain free & perfect
in the presence of God! Hallelujah!! We are so blessed to have had him around for 2 years & 6 months post
diagnosis of GBM-4. Chance & I ask for your prayers. Also I'm sure you will understand that I'm requesting
no phone calls today. I am worn & will try to get much needed rest. Thank you.
We Love all of you! 💔😓💔 — Lori Nelson Aldrich.
————————
Please keep our classmate, Carolyn Notgrass McConnell in your thoughts and prayers. Carolyn lost her father, Burl Notgrass on January 11, 2018. Other siblings are Jan, Nathan and Steven Notgrass.
On December 26,2017 Rod Alan Allen went to be with his Lord and Savior. No services have been scheduled.
November 8, 2017
On Friday, January 5, 2018, our beloved classmate, Benna Leigh Babb went to be with her heavenly father.
Please keep Benna's family in you thoughts and prayers.
Benna Leigh (Babb) Buckingham-Stiver, 60, of Odessa, died Sunday, January 5, 2018, in Odessa. Funeral service will be held at 10:00 am Tuesday January 9, 2018, at Acres West Funeral Chapel. Interment follows at American Heritage Cemetery in Midland County. Pastor Joe A. Wallin is officiating. Arrangements are by Acres West Funeral Chapel of Odessa.
November 23. 2017 Prayers for Danny Batkchelor
Please keep Danny and his family in your thoughts and prayers. Danny's mom, Norma Batchelor, passed away this morning at her home in Odessa. Visitation Friday Nov 24 5:00-7:00 Sunset Memorial and Funeral is Saturday Nov 25 at 4:00 at Sunset Memorial.
October 25,2017 Prayers for Sherry Johnson McCrary
Please keep Sherry and her family in your thoughts and prayers. Sherrys Mom went to be with her Lord and Savior this week. Frank Wilson funeral home will be handling the arrangements. Visitation is Sunday, October 29 from 2-3:30. Funeral is Monday, Oct 30 at 11:00AM. Burial is immediatley after at Sunset Memorial Gardens.
September 15, 2017 Prayers for Rocky Reese family
Rocky's dad, former mayor of Odessa, among many other things, passed away on Friday. Many of you knew Mr.
Reese and know you would want to know service details. Hopefully this link will work.
http://m.legacy.com/obituaries/Oaoa/obituary.aspx?n=James-OQuinn-Reese&pid=186681500&referrer=2171&preview=False
-------------------------------
September 7, 2017 PRAYERS for Jackie Rogges family
Please keep Jackie and his family in your thoughts and prayers. Jackie lost his mother this morning due to complications from surgery. Jackie's mom was a wonderful woman, and always had an open door for me during our High School years. When I learn more about the services, I will share.
June 25, 2017 PRAYERS for PHILLIP THAMES
Our Class has really had some hard hits this last 10 days. One that I have not put on here is Phillip. Just last week most of us only just now learned that Phillip has Parkinson's disease. Along with that information,we learned that Phillips's family has been called in to Houston as he is very sick and near the end of his life 😪 Some of you may have known or know more? For now, this is all the information I have been given. Please lift up Phillip and his family at this very difficult and sad time in his life. If I hear more, I will share.
Thanks......Sherry
-------------
June 25, 2017 UPDATE on Price
Update on Price from his girlfriend, Sandy. Price is showing improvement and gaining strength every day now. I missed a call from Price Ebert this morning during church. When I listened to the message, I was shocked to death to hear Price on the other end!!! 😱😲😳 this afternoon Sandy updated me that Price walked with a walker for a little bit during PT. 😱 Just 3 days ago he couldn't even move his legs!! Now he has been moved to a private room out of CCU, and is on his way to going home with outpatient PT!! God is good 😊 and He sure isn't done with Price!! Please continue your prayers on Price's full recovery!! 🙏🏻❤️🙏🏻 We all know how strong he is and what a fighter he is!! 💪🏼
Sherry
----------------------
June 20, 2017 UPDATE on Price
Well how about some good news for a change!! Sitting here with Price Ebert...watching him feed himself a meal, talking! Awake and alert!! PTL 🙏🏻🙏🏻🙏🏻 Nothing better than to witness God's faithfulness to our many prayers being lifted up for Price.
We held hands for a long time, as I shared with him all the many prayers being said for him and how worried Class of 75 was about him. He was very touched and there were tears from both of us. This time when I prayed over him, I prayed with him....tears for both of us.
He still has a very long way to go so continue lifting him up with your prayers and thoughts. Tomorrow they hope to get him up sitting and even walking. He should be moved to a private room before long. God is good!
*i hear that his breathing tube was not removed in the most conventional way.....Price assisted on that with no help from the nurses* now, does that surprise any of you?!! 😊
Sherry
-----------------------
June 11, 2017
Robert White shared this with me yesterday. I know many of you will want to know this and reach out to Vernon. There should be a guest book to sign on the funeral home site if you do not know how to reach Vernon. Keep him and his girls in your prayers and thoughts. Sherry
Ellice Geiderman DeBolt Obituary
Ellice Geiderman DeBolt, 59, passed away on June 11, at her home in New Bern, NC, surrounded by her family.
Ellice was born in Chicago, IL on November 8, 1957 to Sylvan Geiderman and Jeanette (Mallin) Geiderman Lewis. She was a sister to Howard and Marcia Geiderman. Ellice married her soul mate Vernon Lyle DeBolt III in Kansas City, MO in 1980.
Ellice moved to Overland Park, KS at age 15 where she attended Shawnee Mission East High School. She attended the University of Texas where she graduated in three years with a Bachelor of Arts in Advertising Communications and was a member of the Texas State Guard. Following graduation, she lived in Dallas for a year before marrying Vernon.
As a couple, Vernon and Ellice lived in many places following Vernon's newspaper career and creating life-long friends along the way. She bloomed everywhere she was planted. They lived in Odessa, TX for a year before moving to Turlock, CA, where Ellice gave birth to Lauren DeBolt Lenn in 1983. After seven years in California, Vernon and Ellice moved to Gastonia, NC, where they welcomed their second daughter, Sarah Anne DeBolt in 1988. In 1991, the DeBolt family moved to Greenville, MS where Ellice had her third daughter, Catherine Leigh DeBolt. But their travels weren't over yet – the DeBolt family also lived in Kinston, NC from 1997-2000, Lima, OH from 2000-2002 and finally made their home in New Bern, NC in 2002.
Ellice was preceded in death by her father, Sylvan, and her sister, Marcia.
She is survived by her husband of 37 years, Vernon DeBolt, three daughters, Lauren (David) DeBolt Lenn of Swansboro, NC; Sarah DeBolt of New York, NY; and Catherine DeBolt of San Francisco, CA; her mother, Jeanette (Mallin) Geiderman Lewis of Overland Park, KS; and her brother, Howard (Mary Pellar) Geiderman of Chicago, IL; as well as many cousins and wonderful friends.
Ellice had a zest for life and invested her time and energy in loving her family and friends. She developed many lasting, meaningful friendships, and those whom she loved were truly blessed. She enjoyed many hobbies such as tennis, reading, theater, bridge, shopping, traveling and had a special bond with her loyal dog Buster.
Ellice dedicated her time and talents to many cultural and civic organizations including the Arts Council, Red Cross, NBGCC Ladies Tennis Association, Soroptimist, Heart Gala, Festival of Trees, Coastal Women's Shelter, Craven County Schools, Junior Women's Club, Junior League, Junior Auxiliary, and PEO.
In lieu of flowers, please send donations to the Melanoma Research Alliance, the American Cancer Society
, or a charity of your choice
.
Ellice's family would appreciate friends sharing memories and signing the guestbook at www.cottenfuneralhome.com.


A funeral service will be held Friday, June 16, at 2:00 PM at Cotten Funeral Home, followed by a reception.
Published in Sun Journal from June 14 to June 15, 2017
- See more at:
http://m.legacy.com/obituaries/newbernsj/obituary.aspx?n=&pid=185805079&referrer=0&preview=True#sthash.ySO8Kla9.dpuf
Sent from the iPhone of:
ROBERT E. WHITE
ATTORNEY AT LAW
----------------------------------------------------------------------
It is with much sadness that I let my friends know, that my Mom has gone to be her Lord and Savior. She will finally get to see my Dad again. She was living with my sister in Kansas for the last month enjoying her Great grandkids. She was having problems breathing this morning and was taken to the ER. Doctors say they suspect a blood clot. She was gone within the hour. This picture shows her and I doing what she loved, watching her Grandkids play baseball, here in Florida..
Services are planned for Saturday, May 20 in Denton, Tx, at the DeBerry Funeral home on University Blvd. A viewing will be held on Friday evening.
Regards, Randy Newton
11/25/2016
The day after Thanksgiving, Mitzi Lightfoot Brothers lost her long battle with heart disease and pancreas complications and passed away in Medical Center Hospital. Mitzi was married to another of our classmates, Billy Brothers....since 1977. Please keep Billy and their two children/family and the rest of this family in your prayers and thoughts. You can read Mitzi's Obituary and information on her service at this link:
aries/oaoa/obituary.aspx?n=mitzi-gay-brothers-lightfoot&pid=182804466&fhid=14321
--------------------------------------------------------------
12/10/2015
This morning Jerry Burger contacted me and let me know that his mother peacefully passed away last night at home in Ballinger. Mrs. Burger meant so much to so many of us and had a huge impact on so many of our lives. She is loved by so many of us and others before and after our class. Please lift Jerry and all of her family up in prayer. Blessed to have had her impacting my life beginning at the tender age of 10 at Burnet Elementary! She will be missed by many.
There will be a graveside service in Odessa at Sunset Memorial on Wednesday, December 16, 2015 at 2:00 pm.
sjmc
-----------------------------------------------------------------------------------------------------------------
12/03/2015

Tammy McIntyre Sauer passed away this morning in Indiana. She had a heart attack. Tammy attended Permian during her sophomore year, prior to attending Hood Junior High and Goliad Elementary.
-----------------------------------------------------------------------------------------------------------------
11/28/2015
It saddens me tonight to let all of you know that we have lost another of our beloved Classmates

Rhonda Tabb Perkins lost her courageous and hard fought battle with breast cancer this morning. I don't have any details at this time, but, if you are a praying person, please put her husband Dennis and the rest of her family and friends in your prayers. I will post service information when I receive it.
Rhonda was a strong woman of Faith. Know she is rejoicing in her homegoing where she will meet up with her only son. I have fought a good fight, I have finished my course, I have kept the faith: 2 Timothy4:7
smc
----------------------------------------------------------------------------------------------------------------
Please keep Jim's family in your thoughts and prayers.
James Garland Latham, Jr. (Jim Latham) died Friday Sept. 25. Services are scheduled 10:00 a.m. Tuesday Sept. 29 at Second Baptist Church. Arrangements are with Frank W. Wilson Funeral Directors.
He and his dad were owners of Latham Printing forever.
---------------------------------------------------------------------------------------------------------------
Please keep Coni Fry Sims and her family in your prayers.
June 7 I lost my little brother Mike Fry. Mike was sitting on a bench in Austin when he apparently had a heart attack and died. I received a call to come to the hospital & identify him. He was only 53 and a wonderful person. I'd seen him a few days before & he was laughing (he was always laughing) and seemed healthy & vigorous. I just wanted to share this about him. Thank you.
Coni Fry Sims
----------------------------------------------------------------------------------------------------------------
Patricia Liner Ervin's dad, Kenneth Clower, passed away April 30, 2015. He was 85. Please keep their family in your prayers.
----------------------------------------------------------------------------------------------------------------
Please keep Denise Garrett Kelly and her family in your prayers as they mourn the sudden passing of her dear sweet mother, Laura, last week. I know so many of you know/knew Denise's parents through band, church, and other activites. Visitation with the family and local Celebration of Life services were held in Odessa last Thursday and Friday and they have now traveled to Illinois to the farmland that her parents loved for her funeral and final burial place. Denise was so very close to her mother and had moved her around the corner from her home after the passing of her father a couple of years ago. Denise came back into town to find her mom ill and something wrong and called an ambulance. Upon arriving at the hospital, they found out that her mom had had a very severe brain aneurysum and the next morning, Mrs. Garrett stepped peacefully and joyfully into heaven on April 20, 2015 shortly after Denise's sister, Carla, arrived from Dallas.
I know this is a huge loss to Denise and her family and I am heart broken for them.
Prayers my friend,
Sherry Johnson McCrary
-----------------------------------------------------------------------------------------------------------
It saddens me to report the loss of our classmate, Rocky Hogan. In the early morning hours of Wednesday, April 15, 2015, Rocky Dean Hogan stepped peacefully into the arms of his Lord and Savior Jesus Christ to be forever reunited with his loving family and friends - Please keep Rockys family and friends in your prayers.
I'm going to miss my ole DJ,
God Bless,
Randy Newton
-----------------------------------------------------------------------------------------------------------
I am sad to report to you another loss of a classmate. Kendal Shetter passed away suddenly on Friday night, April 3rd in Abilene, Texas. He and wife, Denise had traveled to Abilene to visit her father. I spoke with Denise yesterday morning. She said he had no symptoms or health issues.
He had a massive heart attack and was taken away from us. His services will be at Higganbotham Funeral Home in Cross Plains, Texas on Wednesday, April 8th at 1:00 PM. Graveside services and burial will be at Rising Star, Texas afterwards.
Please pray for Kendal's family and friends.
Take care and God Bless !!!!!
Your 'ol classmate,
Jackie McLendon
------------------------------------------------------------------------------------------------------------
ODESSA James Keith Yarbrough, 58, died peacefully on January 26, 2015 at his home in Odessa, Texas. He was born in Odessa on January 10, 1957 to Clyde Wallace Yarbrough and Lula Mae Stewart. He married Mary Louise Yarbrough on December 9, 1989 in Grand Prairie, Texas.
Keith graduated from
Texas A&M University
('79) with nuclear and electrical engineering degrees and began his career at Oak Ridge National Laboratories in Oak Ridge, Tennessee. He returned to Odessa to work with his father at Clyde Enterprises. After his time with Clyde Enterprises, Keith was Chief Information Officer at the
University of Texas
at the Permian Basin, a post he held for over 25 years.
Keith was a member of the Midland Shooters Association and an avid skeet shooter always on the hunt for his next perfect round.
He was also active with the West Texas Jazz Society where he served on the board for many years and helped produce their annual jazz party, a tradition that his father helped to begin in the 1960s. Keith will always be remembered as a loving husband and father, a loyal friend, and a consummate host. Nobody will forget his quick wit and kind spirit.
A memorial service will be held at 2:00 p.m. on Thursday, January 29 at First Christian Church in Odessa, with Dr. Dawn Weaks officiating. Arrangements are entrusted to Hubbard-Kelly Funeral Home. In lieu of flowers the family requests donations be made to The Marnie Rose Foundation at
http://runfortherose.racepartner.com/run-for-the-rose/Keithyarbrough
(Team: Keith's Krew).
Keith is preceded in death by his parents. He is survived by his wife, Mary; his son, Jamie and wife Katie of Houston; his stepson, Jeff Murray and wife Katie of Fort Worth and their son Charlie; his stepdaughter, Holly Murray of Houston; his sister, Dianne Kluck of Irving; and his brother, Dan Yarbrough and wife Janice of Odessa.
Published in Odessa American on Jan. 27, 2015
------------------------------------------------------------------------------------------------
Please be with the family of our classmated Linda Joiner Bell, who passed away December 20, 2014. PALMDALE, CALIF. Linda Carol Joiner Bell, age 57, passed away in Lancaster, California on December 20, 2014 after being a long time resident of Antelope Valley. She was born on October 26, 1957 in Brawley, California. Her family moved to Odessa, Texas in 1972 and she graduated from Permian High School in 1975. She was employed by Drs. Brantley and Marshall for 10 years, relocated to Palmdale, California where she was employed by Sierra Medical Group for 30 years. She is survived by daughter Whitney Bell resident of Odessa, Texas, son Jeffrey Bell (Naomi Beck), granddaughter Freya Bell, residing in Prescott, Arizona, and former husband Michael Bell resident of Lancaster, California; her parents Elizabeth and Billy Frank Joiner, brothers Alan Joiner (Denise), Thomas Joiner (Sara), sister Brenda Smith (Don) residing in Odessa, Texas, sister Christine Michaelson from Riverside, California, brothers Mike Joiner (DiAnna) from Crane/Menard, Texas and Robert Joiner (Linda) residing in Argyle, Texas, and numerous nephews and nieces. A Memorial Service will be held in Linda's honor at Saint Elizabeth Ann Seton Church, 7601 N Grandview Ave., Odessa, TX 79765 on Friday, January 2, 2015 at 11:00 AM Father Mark Woodruff officiating. The family requests that in lieu of flowers donations be made to the Humane Society of Odessa, 7012 West Mockingbird Lane, Odessa, Texas 79763.
-------------------------------------------------------------------------------------------------------
------------------------------------------------------------------------------------------
---------------------------------------------------------------------------------------
---------------------------------------------------------------------------------------------------------
---------------------------------------------------------------------
-------------------------------------------------------------------------------------------------