In Memory
Lorena Kaye McCrury (Scott)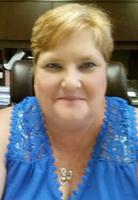 Date of Death: April 10, 2021
Cause of Death: Complications from long battle with Covid-19
Lorena Kaye Scott-Jones, known to all as Kaye, went home to our Lord early in the morning Saturday, April 10, 2021.
Kaye was born in Andrews, Texas on April 16. 1957 to C.J. "Red" McCrury and Wanda (Puckett) McCrury. She graduated in 1975 from Permian High School in Odessa, Texas.
Kaye got married young to Donald Mangus and became the mother of 3 boys, Donald "Donnie" Mangus, Jr, Brandon Mangus, and Charles "Charlie" Mangus. As a young woman, she lived in Iran for a short time, helping to support service men and women as a civilian employee.
Kaye married Gerald Scott, Jr, in November 1993. Kaye and Gerald traveled the world together, along with his mother, Merle Scott, as well as his sisters, Paula Scott and Pat Eaton and her husband Frank Eaton. They were well known for being a fun-loving and laughable group. Kaye and Gerald loved deeply until his passing in in December 2013.
She found happiness again when she married Rickey Jones in October 2018. They stood beside each other through both good and hard times, supporting and loving each other until the end.
Kaye donated a kidney to her son, Brandon. There were never any questions askes, she simply said, "How do I give you mine?" This was the way Kaye approached every problem in life. "How do I give you mine?" Kaye will always be remembered for her big heart.
Kaye's heart was big enough to hold love for all. She not only raised her 3 boys, but also loved Gerald's 3 children, Lisa, Lori, and Casey Scott. She loved Rickey's children, Lyndsey Cauble and Rickey Jones, and their spouses, as well. But she was most proud of her 15 grandchildren and numerous great grandchildren.
Kaye loved all animals, but had a particular soft spot for Pomeranians. In recent years, she was also known for taking in a stray here and there. No dog ever did without in her presence.
Kaye's Heavenly homecoming will be celebrated by those already there, her parents, her husband Gerald, her sister, Geneva, as well as many aunts, uncles, and cousins. Kaye's memory will be kept alive by those of us left here on Earth; her husband, Rickey Jones, her children and their spouses, grandchildren and great grandchildren. She will also be missed by her six brothers and sisters, Margie and husband Jessie Martinez, Michael McCrury, Susan McCrury, Terry and wife Kimberly McCrury, Donna Wallace, and Tommy and wife Cheryl McCrury, along with countless nieces, nephews, and extended family.
A celebration of life will be held at Second Baptist Church, 711 E 17th, Odessa, Texas, at 2:00 pm, on Friday, April 16, 2021, Brother Jackie Brem presiding. In honor of Kaye's long struggle with Covid-19, the family requests those in attendance wear a mask.
In lieu of flowers, please send donations in her name to the Humane Society of Odessa, 7012 Mockingbird (PO Box 749), Odessa, Texas, 79760.
https://www.acreswestfuneral.com/obituary/lorena-scott-jones